News & insights
TSL proud to sponsor SIOR 3rd International European Conference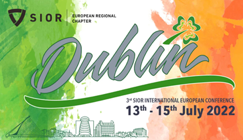 The Society of Industrial and Office Realtors (SIOR) is the leading professional industrial and office real estate association, with 3,600 members in more than 45 countries. SIOR represents today's most knowledgeable, experienced, and successful commercial real estate brokerage specialists.
TSL are delighted to continue our association with SIOR as the first confirmed 'Industry Partner' in Europe. As part of this important and valued collaboration, TSL took a leading sponsorship position for the 3rd SIOR International European Conference in Dublin, 13-15th July.
CEO Jackie Wild appeared as a panellist discussing 'Opportunities in a World of Risk', and TSL hosted a leadership dinner with other SIOR members. We were also proud to be the exclusive sponsor of the gala dinner on the final evening for over 300 industry leading professionals at Christchurch Cathedral.
Find out more here: 3rd SIOR International European Conference Round-Up – Sior Europe